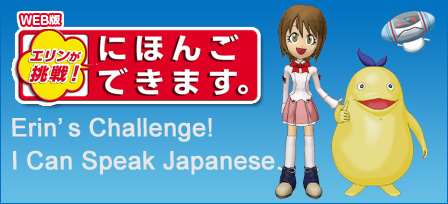 ແອບພຣິເຄຊັ້ນນີ້ແມ່ນ ນຳໃຊ້ສຳລັບການຮຽນຮູ້ຄຳສັບ ແລະ ການສະແດງອອກອື່ນໆ ໃນລະດັບເລີ່ມຕົ້ນ ໂດຍຜ່ານການຫຼີ້ນເກມໄພ້, ກາຕຸນ ແລະ ການທົດສອບຕ່າງໆ. ພ້ອມນີ້ ມັນຍັງສາມາດໃຊ້ເພື່ອກວດສອບວ່າ ທ່ານສາມາດຈື່ຈຳໄດ້ດີປານໄດ.
ທ່ານສາມາດດາວໂລດຈາກທີ່ນີ້ໄດ້:
– ສຳລັບ ຜູ້ນຳໃຊ້ ແອນດຣອຍ 
https://play.google.com/store/apps/details…
– ສຳລັບ ຜູ້ນຳໃຊ້ ໄອໂຟນ
https://itunes.apple.com/…/challenge-with-erin/id1290748939…
Challenge with Erin – Japanese Language Test
This application can be used to study beginner-level vocabulary and expressions in an engaging way through card games, manga and quizzes, and it can also be used to check how much you were able to remember.
Download this link
– Android(Google Play)
https://play.google.com/store/apps/details…
– iOS(App Store)
https://itunes.apple.com/…/challenge-with-erin/id1290748939…