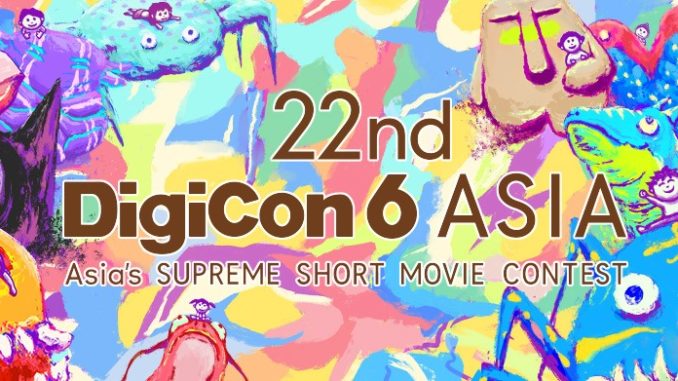 1. Concept and Purpose
Tokyo Broadcasting System Holdings, Inc., Japan's premiere media companies' group, organizes and holds "DigiCon6 ASIA Awards" in Tokyo, Japan every year since 2000. The purpose is to seek, recognize and award talented short film and animation creators from Asian countries and regions. This year it will be held in November in Tokyo as the 22nd edition. For more information visit https://www.tbs.co.jp/digicon/en/
Preceding the Tokyo contest, regional contests will be held in Asian countries and regions such as Japan, Cambodia, China, Hong Kong, India, Indonesia, Republic of Korea, Laos, Malaysia, Singapore, Sri Lanka, Taiwan, Thailand, Uzbekistan, Vietnam.
This year Laos will join the "DigiCon6 ASIA Awards" as a new regional member for the first time ever. The Japan Foundation Asia Center Vientiane will organize its 1st regional contest in Laos in August 2020.
The "GOLD Award" winner of each regional contest is invited to Japan to participate in the Tokyo contest. The works awarded "SILVER Award" and "NEXT GENERATION Award" will be sent to Japan as candidate works to compete in the Tokyo contest.
2. Outline of the 1st Regional Contest in Laos
(1) Types of works
a. All works must be under 15 minutes.
b. CG animation (2D/3D), stop motion/clay animation, real video image, etc. Any
topic or theme is acceptable except political issues and unsuitable content for
youth.
c. Format must be MP4 or MOV (Quality of video: FHD 1920 x 1080).
(2) Eligibility
Local Lao national only
(3) How to entry
Please download the submission entry form and fill in.
http://www.tbs.co.jp/digicon/en/22nd/entry/
Once you fill in, please submit entry form to the following email
(4) Submission deadline
 a. By 15:00 August 24 (Monday), 2020
b. Through Google Drive to JFAC-VT (E-mail: [email protected])
(5) Awards and Prizes
a.Gold Award (1 person) 5,000,000Kip and Invited to the 22nd Digicon6 ASIA Award ceremony in Japan in November 2020
b. Silver Award (1 person) 3,000,000Kip
c. Next Generation Award (1 person) 1,500,000Kip
#Above 3 award works will be forwarded to Digicon6 ASIA Award competition in Japan
3. Selection jury
5 professionals in media field (TBA)
4. Contact information of the Organizer is as follows:
The Japan Foundation Asia Center, Vientiane
Attn: Digicon6 Laos Organizer
Tel: 021-240-280
Person in charge: Mr. Phouthasone (Mobile 020-5560-6620)
E-mail: [email protected]


5. For more information on the Regional Contest in Laos, please visit below:
FB: https://www.facebook.com/jfacvt/
Wesite: www.jfacvt.la
If you need to save the above information in PDF, please click here:
https://jfacvt.la/wp-content/uploads/2020/06/Digicon6_ENG.pdf